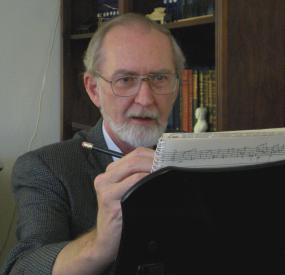 John Winsor studied clarinet with Robert Harrison, David Harris, and Robert Marcellus of the Cleveland Orchestra and composition with John Rinehart and James Waters. He received a Bachelor of Music degree in music education from Heidelberg University and a Master of Arts degree in music theory from Kent State University. During the 1979-1980 school year, he was a doctoral assistant in composition at Kent State. He has taught music theory and designed bandsman training materials at the Armed Forces School of Music. He has also taught clarinet, music theory, and composition at the Virginia Governor's School for the Arts. He has served as an adjudicator for VMTA composition contests (both the professional and student contests). He is a computer programmer for Unisys Corporation and an adjunct clarinet instructor at Tidewater Community College. He is also sole proprietor of Benchmark Websites.
John is a founding member of the Hardwick Chamber Ensemble, which was formed in 1988. The HCE has performed concerts in many of Virginia's colleges, universities, and other presenting organizations. They have also performed in New York, Philadelphia, Los Angeles, and elsewhere in the United States. The HCE has received grants from the Virginia Commission for the Arts and from the arts commissions of Chesapeake, Norfolk, and Virginia Beach. John is vice president and composer-in-residence of the Hardwick Chamber Ensemble and a past chairman of the board of directors for the National Association of Composers/USA (NACUSA). He is the founder of NACUSA's Mid-Atlantic chapter.
John's composition prizes include the 1992 Delius vocal award for Four Songs, the 1995 Delius keyboard award for Three Preludes, the 1992 VMTA Commissioned Composer Competition prize for Hardwick Quartet, the 1994 VMTA Commissioned Composer Competition prize for Midas Retold, the Modern Music Festival 2000 Film Scoring Competition prize for Totem, the 2005 VMTA Commissioned Composer Competition for Chamber Symphony, and the 2012 VMTA Commissioned Composer Competition for Quartet for Clarinet, Violin, Cello, and Piano. John has received grants from the American Music Center and from Meet the Composer. He has won ASCAP Plus awards every year since 1994. His works are frequently performed at composer conferences and festivals throughout the United States and, occasionally, in Europe.
Articles by and about John have been published in ComposerUSA and the SCI Newsletter. He is the author of Breaking the Sound Barrier: An Argument for Mainstream Literary Music, which won ForeWord Magazine's 2003 Bronze Award in the music book category and is listed as an iUniverse Editor's Choice and Reader's Choice. His Three Essays for orchestra was released on Volume 2 of ERM Media's Masterworks of the New Era series (Philharmonia Bulgarica; Robert Ian Winstin, cond.), which won the 2006 JPF Classical Orchestral Album Award. John's Caprice for clarinet solo (John Winsor, clarinet) was released on Greetings From NACUSA!, NACUSA's first official CD. His Serenade for Strings is included on Masterworks of the New Era, Volume 12 (Kiev Philharmonc; Robert Ian Winstin, cond.).
John has maintained several simultaneous part-time careers - as a clarinetist, composer, webmaster, and writer. At the same time, his "day job" over the years has varied quite a lot:
1976 - 1979 Active duty, US Army. Taught music theory at the Armed Forces School of Music.
1979 - 1980 Doctoral Assistant in Composition at Kent State University.
1980 - 1983 Active duty, US Army. Designed training materials for Army bandsmen.
1983 - 1995 ManTech International Corporation. Computer programmer and computer operations supervisor.
1995 - 2014 Unisys Corporation. Computer programmer.
John is webmaster for the following sites, among others: